Located on the Atlantic Coast of Morocco, Taghazout Bay is one of the best places in the world to learn how to surf. The authentic Moroccan fishing village of Tamragth has turned into a surfing hot spot and a place where many Europeans take their first surf lessons thanks to the never ending waves of all shapes and sizes that hit the coast, the warm weather year round, the chilled vibes, and the incredible hospitality of the locals. Mirage Surf School Morocco offers surf lessons and guiding for all levels — from the absolute beginner to the seasoned pro. Depending on the ocean conditions, your fitness level and your vacation goals, our qualified surf instructors will ensure you get the most out of your surfing trip in Morocco.
SURF LESSONS IN MOROCCO – THE BEST PLACE TO LEARN HOW TO SURF
Surf, eat, sleep, repeat. That's all you have to do during your surf holidays in Morocco. Whether you prefer beginner or intermediate surf lessons, or you just need a surf guide to show you the spots and transport you there, we will organize everything for you, so you have nothing to worry about. Our certified surf instructors are top notch surfers who believe in inspiring you, finding the best conditions, and offering you the ultimate Morocco surf lessons experience. Add yoga, day trips, try hammam or massage, watch stunning sunsets or just chill in the pool. We provide all the ingredients for the perfect surf vacation in Morocco, you choose how to mix them!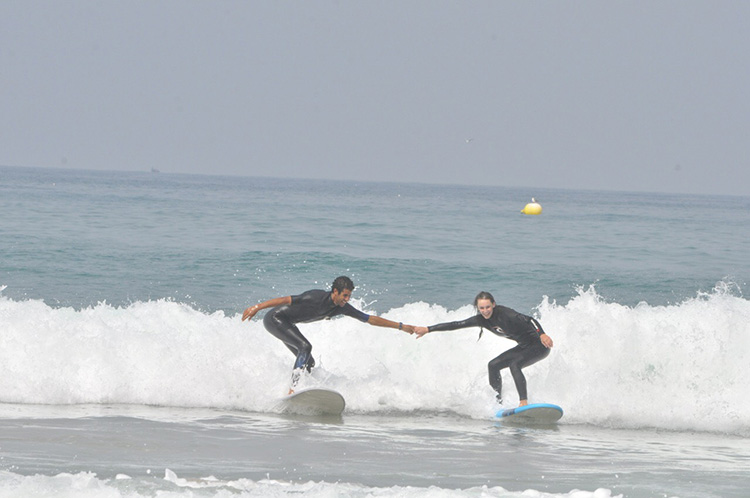 Take look at some of the surf lessons basics you'll learn during your first lesson with Mirage Surf School Morocco:
Step 1: Positioning
Lie stomach-down on your board with your body in the middle of the board and feet just at or slightly over the tail keeping the nose leveled with the water.
Step 2: Paddling out
Paddle as if you are performing a forward crawl swim stroke with arms out to your sides and hands cupped keeping the board perpendicular to the waves.
Step 3: Selecting and catching a wave
Face the beach, paddle forward along with the wave and time your entry. With your hands in front of your shoulders and palms down, push yourself up to your feet. Stand with your feet shoulder-length apart, back foot parallel with the width of the board and front foot at a 45-degree angle keeping your knees slightly bent to steer and balance.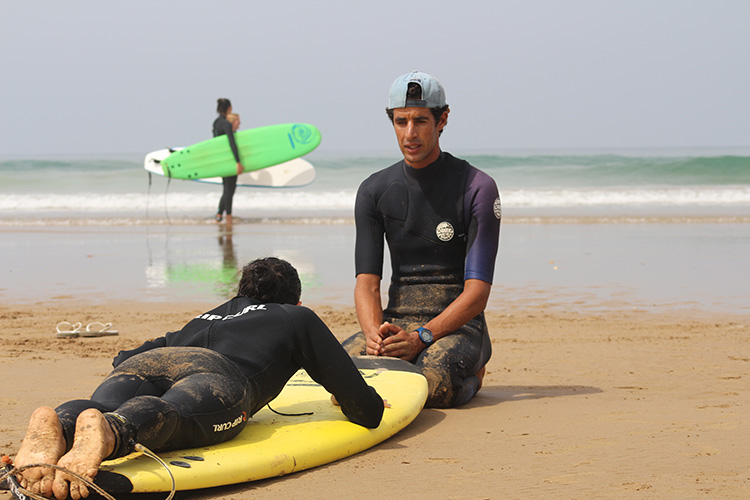 BEST SURF SCHOOL IN MOROCCO – MEET OUR SURF INSTRUCTORS
Are you ready for take-off? Have you been dreaming about learning how to surf in Morocco and want to catch your first wave with us? As experienced local surfers ourselves, we are passionate about the art and craft of surfing and we have dedicated our lives to passing our knowledge onto new surfers. We will be equally, if not even more proud of you when you stand up and ride a wave for the first time!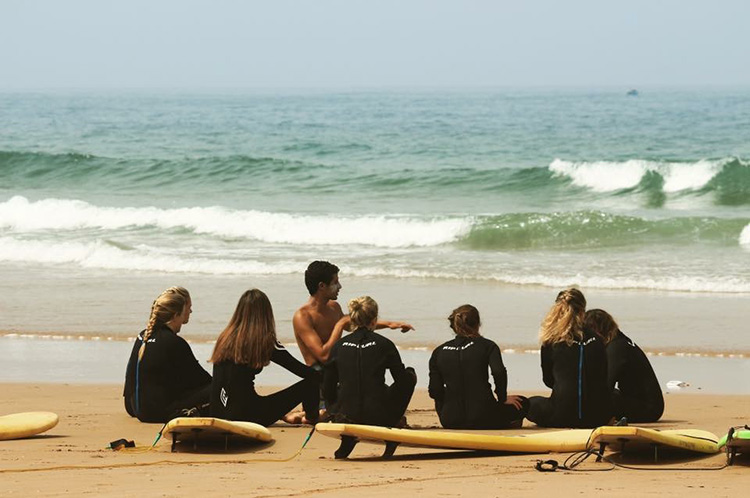 LEARN TO SURF IN MOROCCO – THE LAND OF PUMPING RIGHTS
Based on our unique teaching methodology at our surf school in Morocco and our past guest experiences, we guarantee you will learn to surf, be able to stand up on the board and catch waves by yourself by the end of your stay if you take surf lessons with us.
This is an example of what a week of surf lessons with Mirage Surf Morocco may include:
safety intro & beach awareness, paddling out and ocean conditions, surf equipment
catching a wave
 and popping up, standing up and board control
techniques for speeding up and stalling, improving your stance
turning
, backhand and forehand techniques
, linking your turns
selecting and timing your waves, riding unbroken waves
, angled take offs
positioning yourself in the line-up, using rip currents
, surfing with hardboards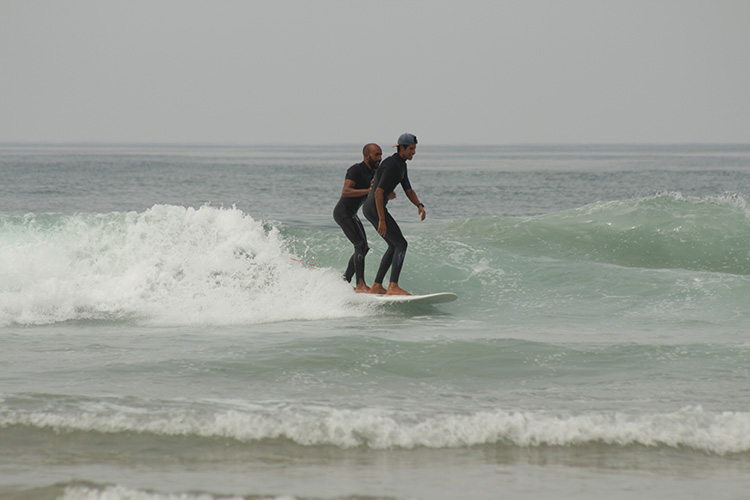 WHY CHOOSE MIRAGE SURF CAMP MOROCCO?
We have been surfing since childhood and we have explored every inch of the coastline. We know the hidden gems and we know what specific swells and weather conditions do to the different surf spots. We are as passionate about surfing as we are about people. We love meeting kindred spirits and making new friends, surfing together and sharing our love for the ocean. In addition, we know all the good eateries, hiking trails, fishing spots, cafés. Sometimes we do a bonfire on the beach or go fishing late at night and we would love to give you an authentic Moroccan experience with the local village life.
MANY DIFFERENT PACKAGES, ONE WINNING FORMULA!
While we offer various surf Morocco packages, it is our tried and tested guest experience formula that differentiates us! Surf, eat, sleep, repeat! We'll take care of the rest. Add yoga classes, try hammam and massage, explore National Parks and local villages, chill in the pool, watch stunning sunsets from the rooftop terrace. Top it all with beautiful sandy beaches, delicious homemade food and great company of fellow surfers…we provide all the ingredients needed for the perfect surf holiday in Morocco!
Our TripAdvisor Certificate of Excellence and the reviews from past guests prove that we indeed deliver on our promise to indulge you in the best Morocco surf vacation you have experienced. Additional to the typical Morocco surf camp packages we offer:
– Free surf at sunrise and sunset (in addition to lessons / guiding)
– Morning and evening yoga classes available
– All our local instructors and surf guides are ISA certified
– Free weekly surf theory classes and video feedback of your surf sessions
– Safe and supportive environment with guaranteed 5:1 max students per instructor ratio
– Free transfer from Agadir Airport / Bus Station
– Day trip to Paradise Valley or Agadir Market included
We highly recommend a 7-night all-inclusive package for most progress and best experience but if you prefer to stay less or more nights, we'll be happy to accommodate.