Choosing a surf camp in Morocco can be a daunting task considering Africa can be seen as an exotic destination in a far away land. Also, with the many options available on the market and the high price tag that often comes with them, it may be difficult to commit to one Morocco surf camp and know you will get your money's worth.
WHY GO SURFING IN MOROCCO
First things first, why should you choose Morocco for your next surf trip? The endless coastline of Morocco hides some of the best waves in the world. Taghazout Bay is world famous for its variety of breaks and consistency of waves year round – beach breaks, reef breaks, point breaks; lefts, rights; gentle waves for beginners or hollow tubs for pros to get barrelled, we have them all!
While still incredibly authentic and preserving its local Moroccan vibe, Taghazout has turned into an international surfing hot spot thanks to its warm weather, beautiful sandy beaches, amazing waves and expats and tourists choosing the area as their holiday destination or year round home and adding their worldliness to the already chill local vibes. The most popular months for surfing in Morocco are from September till April when the big swells of the Atlantic Ocean hit the Moroccan coastline. Beginners and longboarders will have a good chance of clean mellow waves all year even during the summer.
The weather on the Moroccan coast is perfect year round. It is sunny almost every day and there isn't much wind. The air is warm, the sun keeps shining and a dip in the cool Atlantic Ocean is refreshing to the body and soul.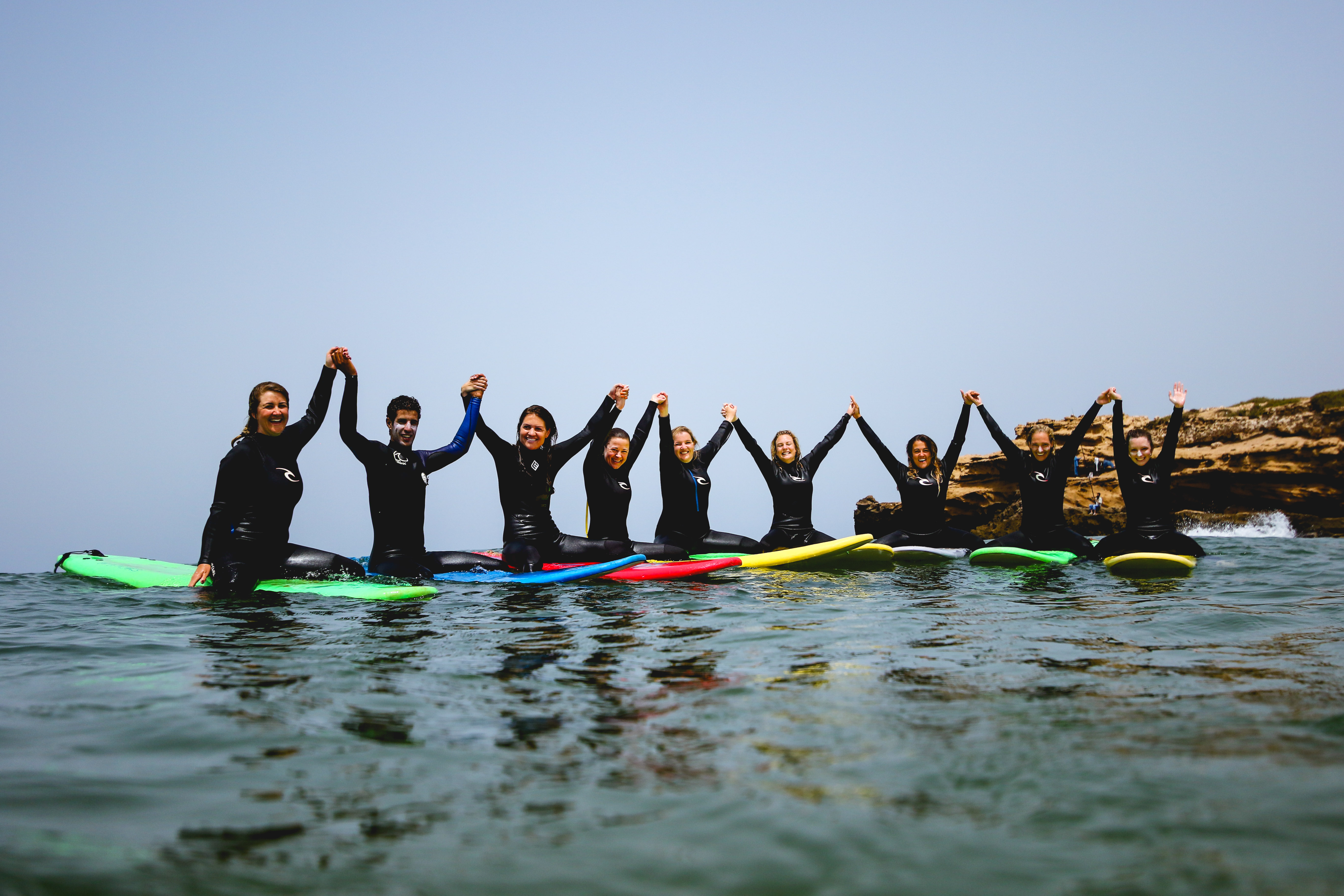 WHAT TO LOOK FOR WHEN CHOOSING A SURF CAMP IN MOROCCO
– Location, Location, Location
The hipster village of Tamraght is located on Taghazout Bay walking distance from the beach and only 20 minutes drive from the city of Agadir. Surfing has become part of Moroccan culture and there is no better place to experience it than visiting Taghazout Bay. There are many low cost flights to Agadir and even more if you include Marrakesh in your choice of airports. Marrakesh is only 2 hrs by bus from Agadir and can be a wonderful cultural stop at the beginning or the end of your Morocco surf trip.
– All Inclusive Packages
Surf, eat, sleep, repeat. That's all you should do on your Morocco surf vacation. Make sure your Morocco surf holiday package has everything organized for you, so you have to think about absolutely nothing else. Add yoga classes, try hammam and massage, explore National Parks and local villages, chill in the pool, watch stunning sunsets from the rooftop terrace. Top it all with beautiful sandy beaches, delicious homemade food and great company of fellow surfers. Does your surf camp of choice provide all the ingredients needed for the perfect surf vacation in Morocco?
– Certified, knowledgeable and experienced local surf coaches
Every experienced surfer makes ripping waves look easy and fun but it's actually a very difficult and physically challenging sport. Surfing can be quite exhausting and your success greatly depends on what weather, wind and ocean conditions Mother Nature decides to deliver that day. However, there is ONE factor you can control that can tremendously enhance your surf session – your surf coach. The instructors at Mirage Surf Morocco are not only ISA certified and highly experienced local professionals, but they strongly believe in inspiring you and sharing their ocean knowledge. We'll show you secret spots and hidden gems and we'll monitor the weather to ensure we visit the best surf breaks depending on your level and what waves you want to surf.
– Delicious Homemade Food
You know that feeling of terrible hunger you get after swimming? Now imagine it 10 times worse. Surfing takes up a lot of energy and you're literally starving when you get out of the water. Luckily, our chefs are life savers and every night they prepare the best food possible and have your taste buds buzzing and craving more. At Mirage Surf Camp Morocco you'll be treated to plenty of delicious Moroccan specialties made fresh from local ingredients. Delicious BBQs, braised meats, roasted vegetables, fresh salads, the famous couscous and even traditional Moroccan tajine, we have something daily for all tastes and dietary requirements.
– Outstanding Guest Service
Being in a foreign country doesn't mean you should compromise on the level of guest service you are used to back home. At Mirage Surf Camp Morocco we provide guests with a unique mixture of traditional Moroccan hospitality and highest level of European guest service. Our Award as Leader in Guest Satisfaction by TripAdvisor proves we indeed deliver on our promise to surpass your expectations and deliver the best Morocco surf trip possible.
– Authentic Moroccan Experience
When traveling to a new country you don't want to just visit the popular tourist attractions but you also want to get the real local experience without sacrificing any of the modern world comforts. Mirage Surf Camp Morocco was created by an European-Marrocaine. Based on a lifelong dream of meeting kindred spirits, sharing incredible surf sessions and experiences in nature, passing along our knowledge of the ocean, enjoying stunning sunsets, tasting delicious food, and living our best, simple lives! We are as passionate about surfing as we are about people. We love making new friends, surfing together and sharing our love for the ocean. In addition, we know all the good eateries, hiking trails, fishing spots, cafés. Sometimes we do a bonfire on the beach or go fishing late at night and we would love to give you an authentic Moroccan experience with the local village life.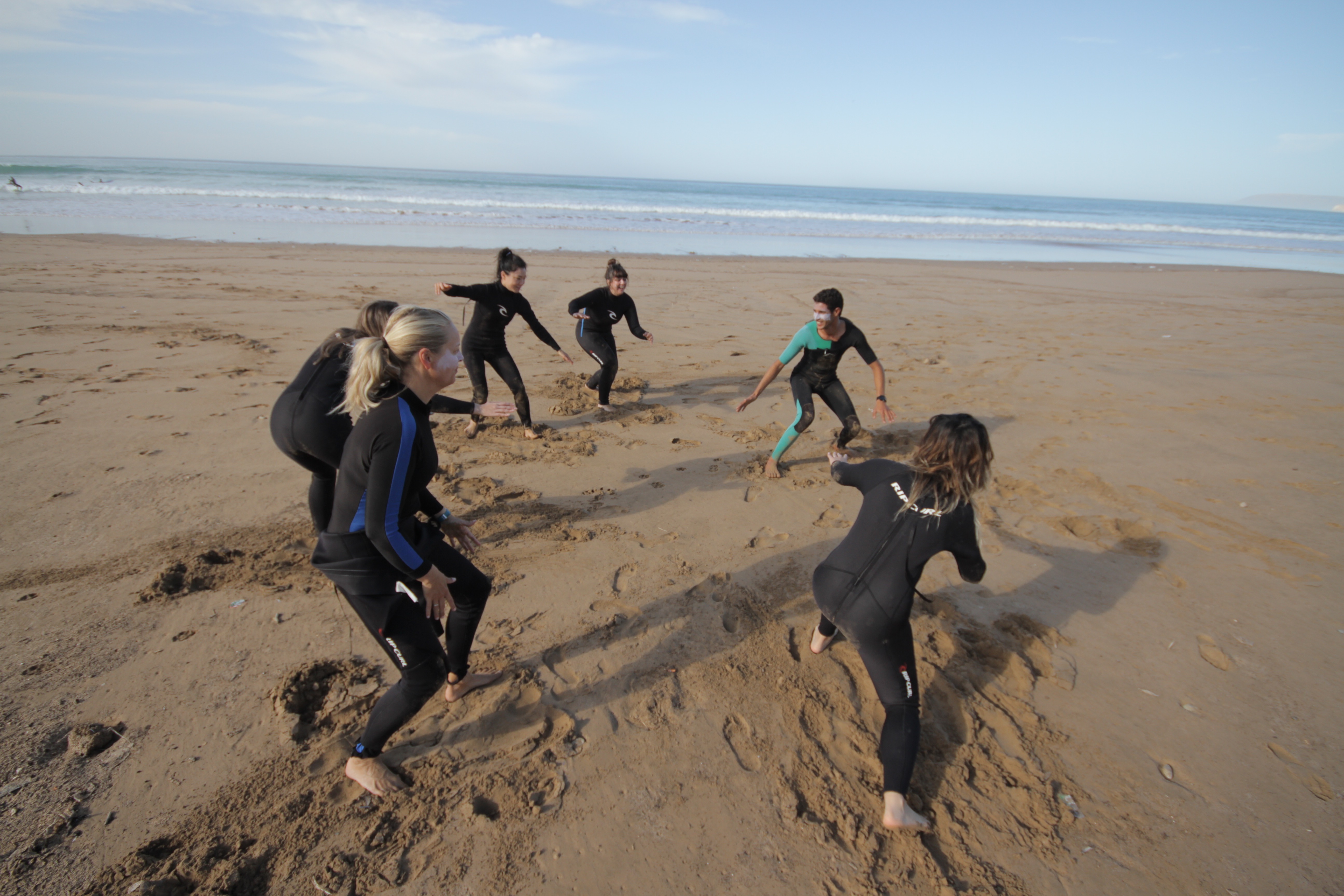 WHY CHOOSE MIRAGE SURF CAMP MOROCCO
Now that you know what criteria to use when choosing the best surf camp in Morocco, find out how Mirage Surf checks all the boxes!
MANY DIFFERENT PACKAGES, ONE WINNING FORMULA!
While we offer various packages, it is our tried and tested guest experience formula that differentiates us from the rest! Surf, eat, sleep, repeat! We'll take care of everything else. Add yoga classes, try hammam and massage, explore National Parks and local villages, chill in the pool, watch stunning sunsets from the rooftop terrace. Top it all with beautiful sandy beaches, delicious homemade food and great company of fellow surfers … we provide all the ingredients needed for a perfect Morocco surf camp vacay!
WHAT DIFFERENTIATES MIRAGE SURF FROM OTHER MOROCCO SURF CAMPS
All you have to do during your surf holiday in Morocco is relax and enjoy. You set the plan, we make it happen! Our TripAdvisor Certificate of Excellence and the reviews from past guests prove that we indeed deliver on our promise. Here is what we offer in addition to the typical all-inclusive packages of other surf camps in Morocco:
– free surf at sunrise and sunset (in addition to lessons / guiding)
– morning and evening yoga classes available or included (depending on your package)
– ISA certified instructors and surf guides
– guaranteed 5:1 max students per instructor ratio
– free weekly surf theory classes and video feedback of your surf sessions
– free transfers to Agadir airport or bus station
– day trip to Paradise Valley or Agadir Market included in most packages
We highly recommend a 7-night all-inclusive package for most progress and best experience but if you prefer to stay less or more nights, we'll be happy to accommodate. Still thinking about visiting Mirage Surf Camp Morocco? Stop thinking and just do it!